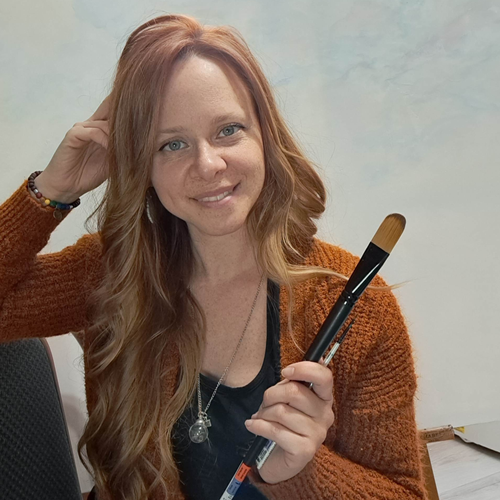 Meet the Artiste
Rencontrer l'artiste
Valérie Durand – L'Artiste-Peintre 
FRANCAIS 
Originaire de Trois Pistole au Québec, elle habite maintenant depuis plusieurs années dans la belle région d'Edmundston, NB, le pays des Brayons. Elle est fière maman d'une jolie fillette et en plus, elle est coiffeuse de métier et appartient son propre salon de coiffure.  Son talent de coiffeuse est indéniable! 
Mais son talent d'artiste peintre est encore plus spectaculaire!  Valérie a un style de peinture versatile et très à elle.  Autant avec la peinture et l'encre acrylique qu'avec l'aquarelle, elle crée des œuvres avec un style de peinture abstraite moderne. Ses peintures ont toutes une touche à la « Valérie », mais en même temps, elles sont toutes différentes et très originales. 
Cette artiste passionnée qui commence tranquillement à se faire connaitre dans la région gagne le cœur de ses clients avec son talent pour faire passer des émotions et du mystère dans ses œuvres.  Ses choix de couleurs ainsi que les nuances et textures qu'elle utilise aident à créer des images qui parlent et qui racontent chacune leurs propres histoires.   Elle est aussi très capable de créer, sur demande, des œuvres personnalisés et très spéciale. 
Par exemple, elle travaille justement sur un projet très spécial et original en collaboration avec les artistes musicales Karine Savoie et MC, elle-même, qui ira avec une chanson qu'elles planifient sortir en mars 2023. 
On vous présente ici plusieurs des œuvres de Valérie pour votre plaisir de visionnement. 
ENGLISH  
Originally from Trois-Pistole in Quebec, for several years now she has been residing in Edmundston, NB, land of the Brayons.  She is the proud mother of a wonderful daughter. Also, she is a hairdresser by trade and owner of her own salon.  Her hair stylist talents are undeniable!  
But her talent as a painter is even more spectacular!  Valérie has a style of painting that is very versatile and very much her own.  As much with paint and acrylic ink, as with watercolor, she creates works of art in a modern abstract style.  Her paintings all have a bit of the "Valérie touch", but at the same time, they are all very unique and original.  
This passionate artiste who is slowly starting to be known in her area is winning the hearts of her clients with her talent to create emotions and mystery in her art.  Her choices of colors as well as the nuances and textures that she uses help create images that speak and tell stories all of their own.  She is also able to produce, on demand, personalized and very special works.  
For example, she is presently working on a very special and original collaboration piece with the musical artists Karine Savoie and MC, herself, which will go with a song that they plan on releasing in March 2023.  
We present to you here many of Valérie's paintings for your viewing pleasure!